We are very excited to announce that as from today, KEF is releasing its latest innovation in loudspeaker design; the addition of three KEF Airfreshpaint® finishes to the KEF Blade Custom Colour range! The sumptuous new high gloss custom lacquer finishes in the striking Lime Sorbet, Lemon Sorbet and Orange Sorbet hues have been developed to truly reflect the name of each finish and emit the aroma of each of the named fruits.
The Technology
The new Airfreshpaint® used as part of the lacquer process for these finishes harbours a clever microencapsulation technology which carries similar principles behind the scratch-and-sniff printing concept. It takes the aroma generating chemical and encapsulates this in microscopic plastic spheres which release the subtle fragrance when ruptured. The scent is essentially held in millions of tiny bubbles, which preserve the fragrance for years. Even with the KEF Blade's acclaimed vibration free cabinet design, the slightlest of soundwaves, almost immeasurable to our instruments, rupture some of these spheres and release the aroma.
"The scented finishes add an entirely new dimension to the listening experience.
The lime finish is a revelation with Samba and a piña colada."
Dr Jack Oclee-Brown - Head of Acoustics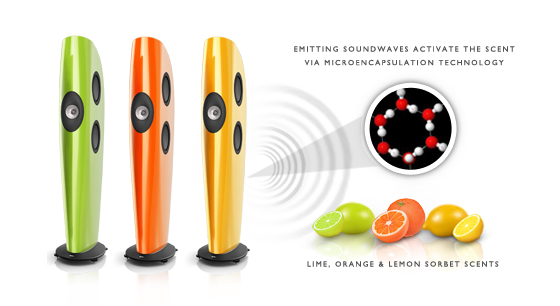 Imagine The Lemon Song by Led Zeppelin or Frank Ocean's Channel Orange with a fresh fruity scent – a true treat for all senses! The new limited edition KEF Blade with Airfreshpaint® is available in Lime Sorbet, Lemon Sorbet and Orange Sorbet – taken from the already existing custom colour finishes.
To find out more about the technology and science behind the Airfreshpaint® click below.